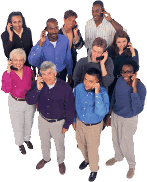 Thinphone gives you the power to make instant two-way phonecalls. Faster than email, it turns the ordinary telephone into an instant messaging device, for any urgent personal or business information. You send email to one or more email addresses like "6175551212@thinphone.com". In a minute the phones ring, announce your name, and speak your message with an amazing computer voice. The recipient is asked for a reply, which is returned to you as a WAV file link. Thinphone can also play DOC files and WAV audio files. And, it confirms that each call went through, and whether it was answered by a person or an answering machine.

Click to hear the voice
Besides personal alerting, Thinphone has many industrial uses. Get an immediate demonstration of Thinphone for selected industries.

Thinphone is just one feature of the Thinmail suite but is also available as a simple stand-alone service with no monthly fee. Visit http://www.thinphone.com Contact Sales @thinmail.com for our Corporate API edition with capacity to deliver hundreds of simultaneous personalized high-quality text-to-speech calls for alerting and CRM applications. Consultative Incoming and outgoing IVR scripting and hosting is available.